The new Anghami Plus service from Zain-oodi, allows our customers to subscribe with Anghami Application and enjoy its features. The subscription is through the balance directly.
Subscription details:
Subscription via SMS:
Send 511 to 4065 for daily offer of 250 IQD per day after getting 1 day free for new subscribers
Send 522 to 4065 for weekly offer of 1000 IQD per week after getting 3 days free for new subscribers
Send 533 to 4065 for monthly offer of 3,500 IQD per month after getting 7 free days for new subscribers
a confirmation SMS will be received containing the link to download the app and the service details.
Subscribe through the app:
Subscribe through the Anghami app directly by selecting the "Upgrade "option then choosing one of offers then choose payment via Zain.
a confirmation SMS containing PIN code will be received, the PIN is needed to be entered in the blank PIN space on the App to confirm the subscription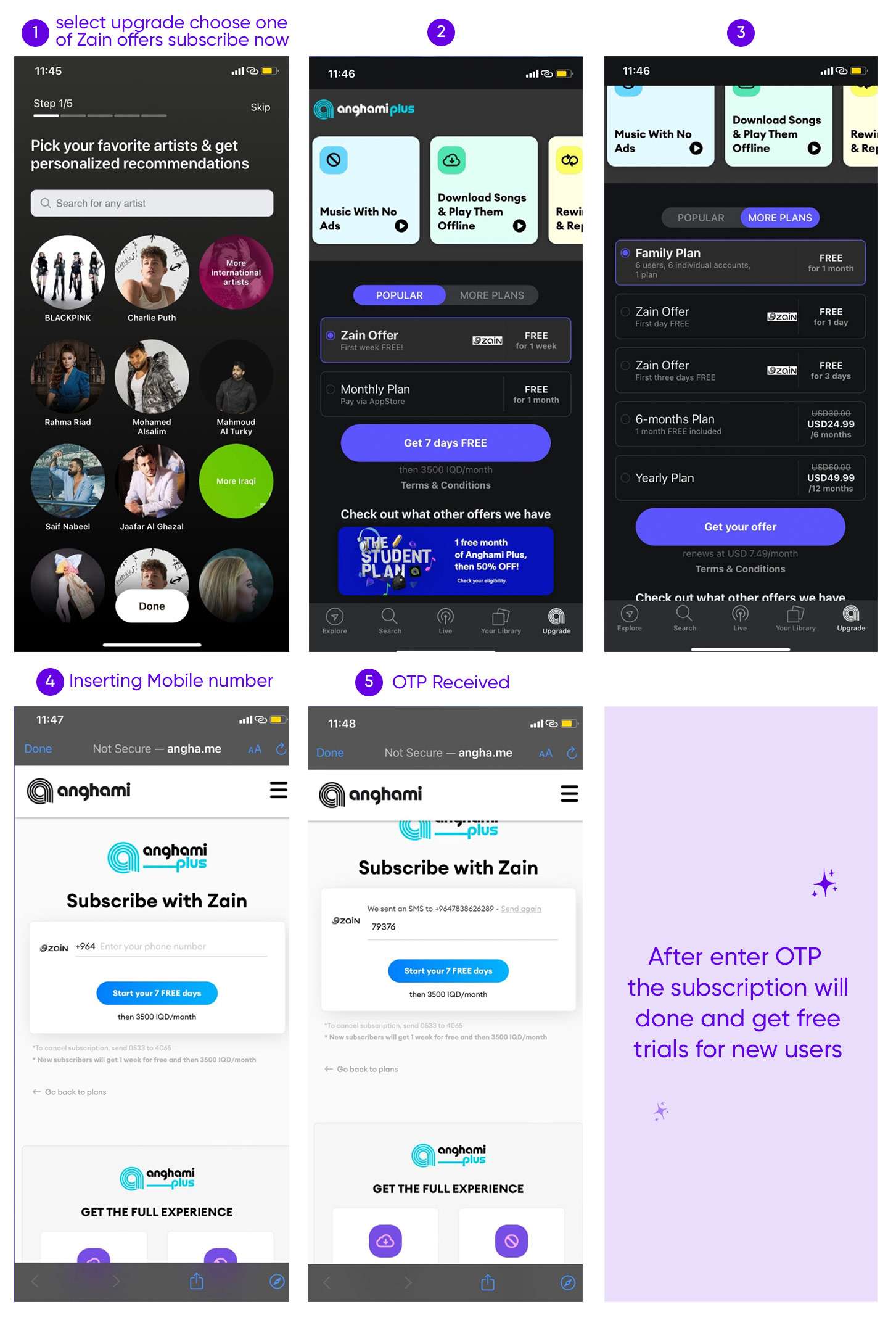 To cancel your subscription :
To cancel the daily offer send 0511 to 4065
To cancel the weekly offer send 0522 to 4065
To cancel the monthly offer send 0533 to 4065
Details and features of the service:
Anghami Free
Anghami Plus
Listen to millions of songs
Unlimited Arabic and International tracks instantaneously
✔
✔
Discover new songs
With the special Anghami features "Radar" and "Music playlist"
✔
✔
Share with friends
Share music with your friends on your favorite social network
✔
✔
Unlimited downloads
Download as many songs as you want
✔
Offline access anytime, anywhere
Carry your downloaded music without internet
✔
No ads
Play your favorite music without any interruption
✔
Live Radio
You can make your own radio channel and share it with everyone
✔
Lyrics
Discover the lyrics to all the songs and display them on your screen
✔

Import Music from Anywhere

Bring-in songs you have on your phone or other platforms even if they are not on Anghami.

✔

Rewind, Scrub & Repeat

Scrub to your favorite part, repeat songs and play music in the order you want

✔

Boost your Sound

Connect multiple devices together to play the same music at the same time

✔

High-quality music

Enjoy high-quality music with Dolby 320 Kbps
✔